History has been made!  On January 8th, Mary and I braved a snowstorm to cross the Rocky Moun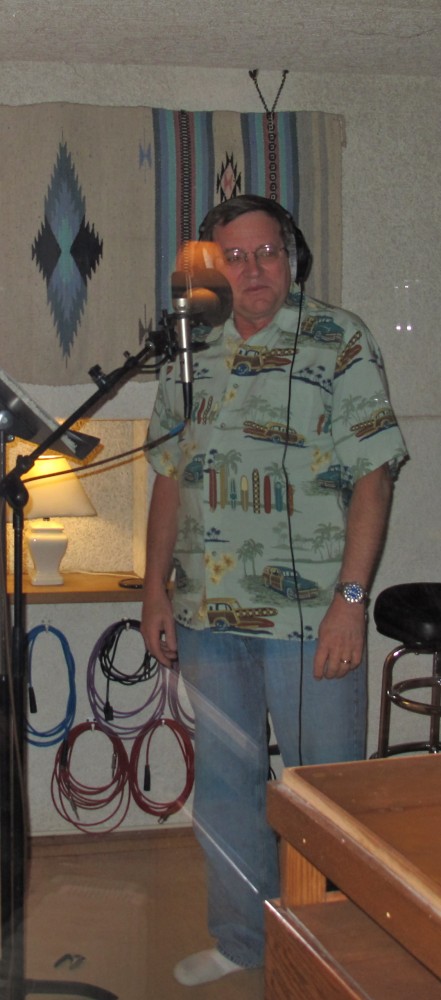 tains to Denver (a 280 mile drive).  Then, the next day I did an official singing recording at Raven Recording Studios.  I was singing harmony to Mary on Our Light, written by Mary and performed by us as a duet at our wedding in 2002 in Cabo San Lucas.  It is about time that we are finally getting it recorded.
Jim Ratts, the owner, engineer and gofer at Raven Recording, is an accomplished musician with loads of great stories.  His band is Runaway Express and I highly recommend you check out their music.  I particularly enjoy their CD, Howlin' at the Moon.  This is one of those few CDs that I just listen to over and over.  But I digress.
Mary has enjoyed recording multiple projects with Jim, but I had never met him.  She had told me he was full of good ideas and made recording fun, being a good cheerleader. And, of course, you can hear his technical expertise on Mary's recordings.
Even though Mary told me Jim would take good care of me and make me sound good, I was nervous about singing the harmony on Our Light. But it turned out she was right!   Jim took what I was anticipating to be a daunting task and turned it into a fun and educational experience.  Thanks, Jim!  It was a true pleasure meeting you and Salli!
Jim still has some mixing and mastering work on Our Light, but once a copy becomes available, I will post a link to it here as well as Mary's music website.  This song will also be on one of Mary's upcoming CDs.
And speaking of Mary and her music, she has become a composing whirling dervish.  She is composing a series of classical guitar (instrumental only) pieces dedicated to the memory of our friend Professor James Smith, chair of the guitar studies program at USC, who recently passed away.  You will be able to learn more about this project on her music website once the webmaster (me)  gets around to updating it.