Browse:
Home
/
Scientific
on June 28, 2012
Happy WHAT, you may ask? Well, those who read this blog may recall me writing about pi day on 3/14.  There were many geeks writing about pi on that day.  And many of them linked to Vi Hart's video telling us what is wrong with pi and how we really should use tau (twice pi […]
Posted in Scientific | Tagged science | Leave a response
on March 14, 2012
Today is pi day, 3/14.  You know, pi, the irrational number, 3.141592654…  We all learned the basic formulas for a circle involving pi in school:      (circumference equals pi times diameter)      (area = pi times the radius squared) OK, no more formulas.  I promise. With today's computers,  the value of pi has been calculated to millions […]
Posted in Scientific | Tagged science | 2 Responses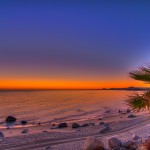 on February 25, 2012
It was another great dawn this morning.  I have discovered that it is best to be in position to watch the sky about an hour to 45 minutes before sunrise.  This will allow you to get your equipment set up and to see the complete transition through the blue hour.  I like to be there […]
Posted in Photography, Scientific | Tagged Los Barriles, Mexico, photography, science, Sea of Cortez, sunrise | 3 Responses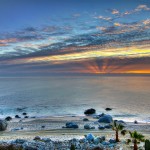 on February 25, 2012
It never ceases to amaze me how every day has such a different sunrise.  It makes it worth it to get up early to watch.  Here is one with a great example of crepuscular rays emanating from behind low-lying clouds.  This phenomenon only lasted a couple minutes.
Posted in Photography, Scientific | Tagged Los Barriles, Mexico, photography, science, Sea of Cortez, sunrise | 1 Response
on March 19, 2011
OK, here is the answer to my audio puzzle.  Take a look at this video shot from the terrace of our condominium: And here is another close-up video: These are flying or leaping mobula rays, a cousin of the manta ray.  Nobody knows why they do this, but it is quite a show.  You can […]
Posted in Family, Flying, Scientific | Tagged Los Barriles, Mexico, mobula rays, Sea of Cortez | Leave a response
on December 31, 2010
I wrote about what an incomprehensible number 1 trillion is.  And it still IS incomprehensible to me when talking about it as a number of dollars.  But there are bigger numbers, MUCH bigger numbers.  For instance, there are 50-75 trillion cells in a single adult human.  And there are about 20 times that many bacteria […]
Posted in Scientific | Tagged Avogadro's number, mole, science | 1 Response
on December 2, 2010
In the last few years, there have been very large numbers thrown around when describing the US budget and deficit.  These numbers are so large they are best expressed using scientific notation (you know, 1 trillion = 10¹²); they are almost incomprehensible.  Some would say they are astronomical.  So here goes. If you were able to […]
Posted in Political, Scientific | Tagged numbers, science, trillion, US budget, US deficit | 4 Responses