Browse:
Home
/
Los Barriles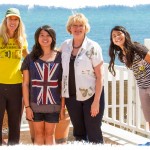 on March 15, 2012
With a combination of sadness and anticipation, we came home to Colorado yesterday. The day began with our last inspiring Los Barriles sunrise and wistful walks on the beach.  Then came the plane rides from Los Cabos to Phoenix and Phoenix to Grand Junction. We will miss all our wonderful Los Barriles friends and wish […]
Posted in Family | Tagged family, Los Barriles, Mexico | 1 Response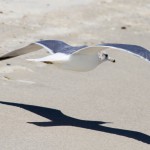 on March 12, 2012
I am a child of and nostalgic for the interesting 60's and 70's decades.  A noncomprehensive (and maybe incomprehensible) list of my memories in no particular order includes: high school, the Beatles, the assassination of John Kennedy, the Beverly Hillbillies, growing up on an Iowa family farm, the Iowa State Fair, leaving home, the Vietnam […]
Posted in Philosophy, Photography | Tagged Los Barriles, Mexico, photography | Leave a response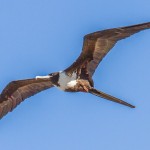 on March 11, 2012
The seabirds here in Los Barriles are easy to photograph on windy days like today.  I just sit on our condo's terrace and wait for them to sail by.  I have been watching these particular birds for weeks.  I did not know what they were called (remember, I grew up in Iowa, a LONG way […]
Posted in Photography, Uncategorized | Tagged Los Barriles, Mexico, photography, Sea of Cortez | Leave a response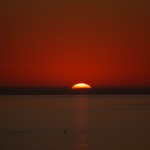 on March 10, 2012
We woke up one morning to see this brilliant red sky as the sun made its entrance from behind a distant cloud bank hanging over the Sea of Cortez.  It truly is a wonderful world.
Posted in Photography | Tagged Los Barriles, Mexico, photography, sunrise | Leave a response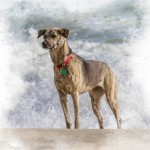 on March 9, 2012
Los Barriles is such a great place to expand our group of friends; we are always meeting nice people. On this trip, we have met Greg and Dari McKim, over at Vista del Mar, about 0.7 mile down the beach to the south from Mar y Sol, where we live now.  We met them when […]
Posted in Family | Tagged family, Los Barriles, Mexico, Sea of Cortez | Leave a response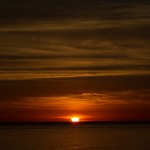 on March 7, 2012
I don't want the series of sunrise pictures from Los Barriles looking over the Sea of Cortez to become monotonous, so I decided to try something different.  This picture was taken on a dark, cloudy morning with a telephoto lens rather than my trusty wide-angle.  I could have lightened up this picture but decided to […]
Posted in Photography | Tagged Los Barriles, Mexico, photography, Sea of Cortez, sunrise | 1 Response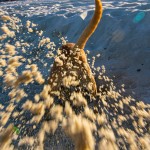 on March 5, 2012
As long as we have been coming to Los Barriles (6 years), we have always looked forward to a friendly greeting from our dog-away-from-home, Lucia.  She belongs to a local Mexican family along the beach, but spends almost all her time out on the beach.  Lucia has taken a shine to us, and always walks […]
Posted in Family | Tagged Los Barriles, Mexico | 1 Response
on March 4, 2012
Last night there was a great show at Caleb's Cafe, here in Los Barriles.  It was called True Stories and was put on by director, producer and theatrical genius, Camilla Ford. This was the sixth episode, so to speak.  Last year was the first one I saw, and I was enthralled. The show consists of […]
Posted in Flying | Tagged Los Barriles, Mexico | 9 Responses
on March 1, 2012
The last few days have been very windy with whitecaps.  I keep mentioning that the kiteboarders and sailboarders are in heaven.  It occurred to me I haven't shown any pictures of kiteboarders, so today I grabbed this picture from right in front of the condo. I don't kiteboard, but am fascinated by the kites they […]
Posted in Photography | Tagged Los Barriles, Mexico, photography, Sea of Cortez | 2 Responses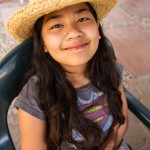 on February 29, 2012
Equal time for daughter number 2.  That refers to birth order only.  Not to any of the other things Stefi has imagined.  This photo was taken at the Roadrunner in Los Barriles.  We were there listening to Mary perform for the Sunday brunch.  Roadrunner also has an open mic night every Wednesday with great talent […]
Posted in Family | Tagged family, Los Barriles, Mexico | 1 Response