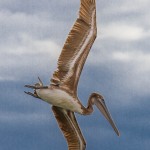 on February 28, 2012
Today has been a windy day with lots of whitecaps on the Sea of Cortez. The windsurfers and kiteboarders are in heaven.  Also, when it blows like this, the large seabirds including the pelicans, frigatebirds and seagulls are out soaring.  Often they soar by right in front of our condo's terrace.  Another great day in […]
Posted in Photography | Tagged Los Barriles, Mexico, photography | 1 Response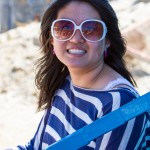 on February 26, 2012
Niki is in high school now.  I cannot believe she is 15 and learning to drive. She has now left us behind in Los Barriles to go back to school in Delta.  I took this photo sitting in front of the Los Barriles elementary school while we were waiting to pick up Stefi's friend, Heidi. […]
Posted in Family | Tagged family, Los Barriles, Mexico | 1 Response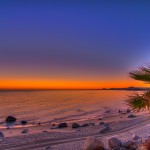 on February 25, 2012
It was another great dawn this morning.  I have discovered that it is best to be in position to watch the sky about an hour to 45 minutes before sunrise.  This will allow you to get your equipment set up and to see the complete transition through the blue hour.  I like to be there […]
Posted in Photography, Scientific | Tagged Los Barriles, Mexico, photography, science, Sea of Cortez, sunrise | 3 Responses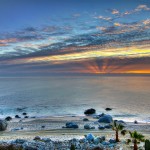 on February 25, 2012
It never ceases to amaze me how every day has such a different sunrise.  It makes it worth it to get up early to watch.  Here is one with a great example of crepuscular rays emanating from behind low-lying clouds.  This phenomenon only lasted a couple minutes.
Posted in Photography, Scientific | Tagged Los Barriles, Mexico, photography, science, Sea of Cortez, sunrise | 1 Response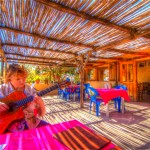 on February 15, 2012
This photo was taken last weekend in Cabo Pulmo. I really like the shadows cast by the Palo de Arco shading plus the cool colors of the chairs and tablecloths.  Palo de Arco is the tree that the sticks for the Palo de Arco shade comes from.  Apparently they are very tough and resistant to […]
Posted in Music | Tagged guitars, Mexico, music | Leave a response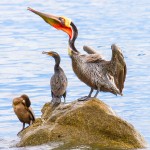 on February 14, 2012
Hey, whaddya know?! I CAN take a non-HDR, non-sunrise photo! The pelicans remind me of WW-II-era PBY Catalinas. Or maybe pterodactyls.
Posted in Photography | Tagged Los Barriles, Mexico, photography, Sea of Cortez | Leave a response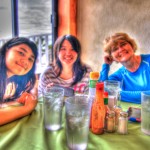 on February 13, 2012
We enjoy walking the mile on the beach to Los Barriles for breakfast at Martin Verdugo's.  This tradition began 6 years ago, shortly after we moved to Los Barriles from Cabo. Our foreign exchange student from Taiwan, Angel, was with us, and we decided it would be fun to walk to town for breakfast.  We […]
Posted in Family | Tagged family, Los Barriles, Mexico, photography | Leave a response
on April 18, 2011
Our recent 3-month stay in Mexico reminded me that I have not posted my often-requested frozen margarita recipe here. Remember the Baldwin sisters on The Waltons? The ones who were always making "the recipe?"  Their dedication to chemistry inspired me to experiment for 3 years with all sorts of complicated formulas for a frozen margarita. […]
Posted in Uncategorized | Tagged Damiana, margarita, Mexico | Leave a response
on March 19, 2011
OK, here is the answer to my audio puzzle.  Take a look at this video shot from the terrace of our condominium: And here is another close-up video: These are flying or leaping mobula rays, a cousin of the manta ray.  Nobody knows why they do this, but it is quite a show.  You can […]
Posted in Family, Flying, Scientific | Tagged Los Barriles, Mexico, mobula rays, Sea of Cortez | Leave a response